Buttermilk Pancakes
2021-06-05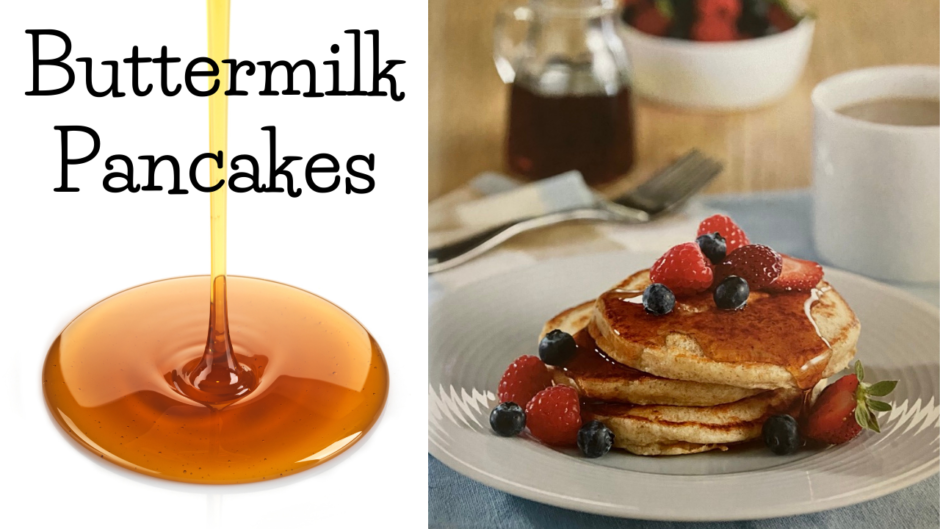 Servings:

4

Prep Time:

10m

Cook Time:

10m

Ready In:

20m
Average Member Rating
(5 / 5)
1 People rated this recipe
Related Recipes:
Nutritional Info
This information is per serving.
Calories

175

Carbohydrates

22g

Fat

7g

Protein

5g

Serving Size

1
Side
Advertisement
Ingredients
2 Cups Plain Unsweetened Soymilk
2 Tablespoons Lemon Juice
2 Tablespoons Vegetable Oil
1 Tablespoon Agave Nectar
1 Cup All-Purpose Flour
1 Cup Whole Wheat Flour
1 Teaspoon Baking Soda
1 Teaspoon Baking Powder
1/2 Teaspoon Salt
1 - 2 Tablespoons Vegan Buttery Spread
Fresh Fruit or Maple Syrup
Method
Step 1
Combine soymilk and lemon juice in a large measuring cup or medium bowl. Set aside 5 minutes. Stir in oil and agave.
Step 2
Whisk all-purpose flour, whole wheat flour, baking soda, baking powder, and salt in a large bowl. Whisk in soymilk mixture until fairly smooth.
Step 3
Heat large nonstick skillet or griddle over medium-high heat. Brush lightly with melted spread. Pour batter into skillet in 4-inch circles. Cook 3 to 5 minutes or until edges of pancakes become dull and bubbles form on tops. Flip pancake; cook 1 to 2 minutes or until browned. Keep warm.
Step 4
Serve with fruit and/or maple syrup.