Maple Pecan Granola
2021-06-11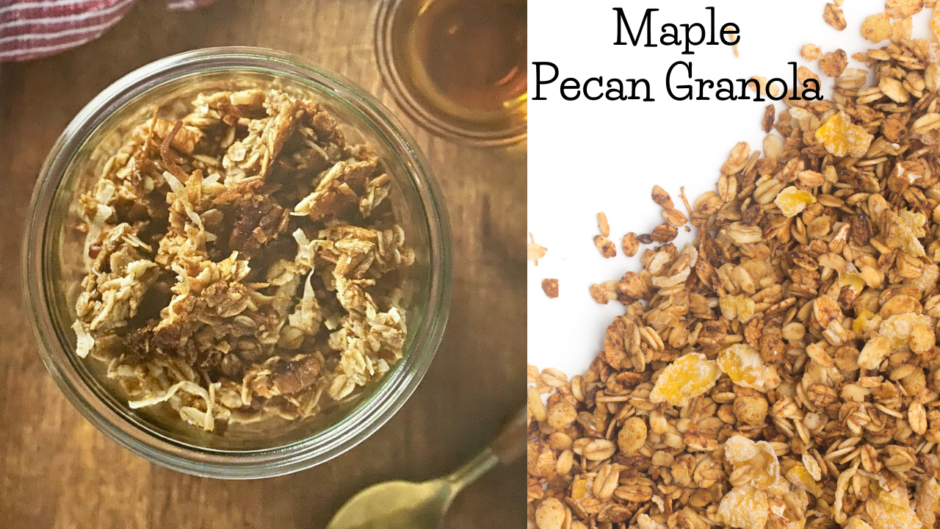 Servings:

6

Prep Time:

10m

Cook Time:

30m

Ready In:

40m
Average Member Rating
(5 / 5)
1 People rated this recipe
Related Recipes:
Nutritional Info
This information is per serving.
Calories

250

Carbohydrates

39g

Fat

8g

Protein

6g

Serving Size

1 Cup
Side
Advertisement
Ingredients
1/4 Cup Maple Syrup
1/4 Cup Packed Dark Brown Sugar
1 1/2 Teaspoon Vanilla
1/2 Teaspoons Ground Cinnamon
1/2 Teaspoon Coarse Salt
6 Tablespoons Vegetable Oil
3 Cups Old-Fashioned Rolled Oats
1 1/2 Cups Pecan, Coarsely Chopped
3/4 Cup Shredded Coconut
1/4 Cup Ground Flaxseed
1/4 Cup Water
Dairy-Free Yogurt or Milk (Optional)
Method
Step 1
Preheat oven to 350º F. Line sheet pan with parchment paper.
Step 2
Whisk 1/4 cup maple syrup, brown sugar, vanilla, cinnamon, salt, and oil in a large bowl. Stir in oats, pecans, coconut, and flaxseed until evenly coated. Stir in water.
Step 3
Spread mixture evenly on a prepared sheet pan, pressing into an even layer.
Step 4
Bake 30 minutes or until the mixture is golden brown and fragrant. Cool completely on a sheet pan.
Step 5
Serve with yogurt and additional maple syrup, if desired.
Step 6
Store leftover in an air-tight container at room temperature for 1 month.
Step 7
For chunky granola, do not stir during baking. For loose granola, stir every 10 minutes during baking.