Tomato Basil Sauce
2021-02-15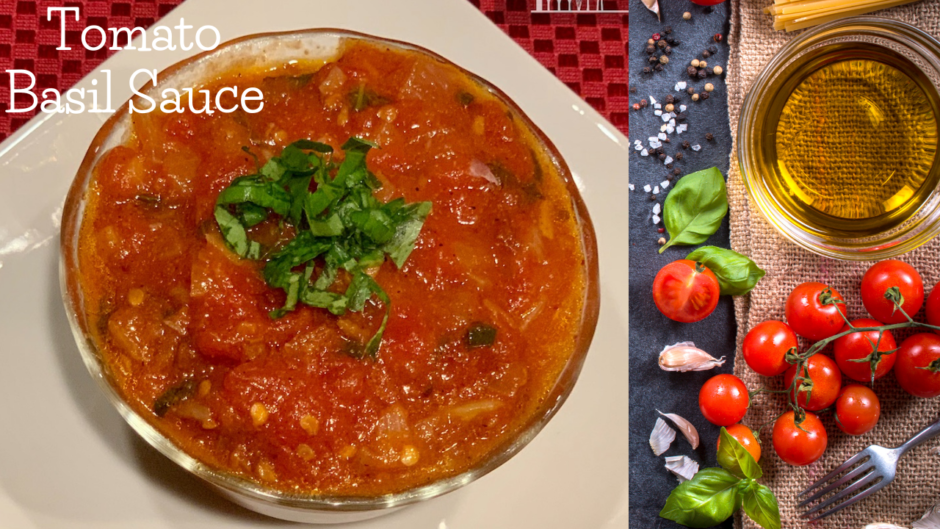 Servings:

3

Prep Time:

5m

Cook Time:

20m

Ready In:

25m
Average Member Rating
(0 / 5)
0 People rated this recipe
Related Recipes:
Nutritional Info
This information is per serving.
Calories

45

Carbohydrates

8g

Fat

1g

Protein

2g

Serving Size

125g
Side
Advertisement
This simple tomato basil sauce recipe is a traditional easy to make sauce that can be served with pasta dishes or used as a base for pizza.
Ingredients
2 Tablespoon Olive Oil
1 Tablespoon Crushed Garlic
1 Cup Chopped Onions
2 Cups Tomatoes (Boiled & Skin Peeled)
Salt as per taste
1/2 Teaspoon Pepper Powder
1 Teaspoon Crushed Red Chili Flakes
1/2 Cup Chopped Basil
1/2 Teaspoon Garlic Powder
Method
Step 1
In a cooking pan, add 2 tablespoons olive oil, 1 tablespoon crushed garlic, and fry for 1 minute.
Step 2
Add 1 cup chopped onions and fry until onions are translucent.
Step 3
Add 2 cups tomatoes ( Boiled & Skin Peeled), add salt as per taste, add 1/2 teaspoon pepper powder, 1 teaspoon crushed red chili flakes, 1/2 cup chopped basil, and mix, cook for 2 minutes.
Step 4
Add 1/2 teaspoon garlic powder and mix it well, cook until gravy is thick.