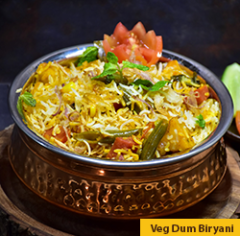 Veg Dum Biryani
Long grain basmati rice cooked with vegetables in tradition dum style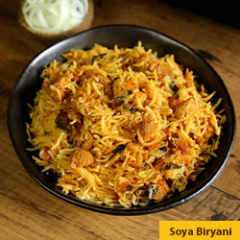 Soya Biryani
Biryani prepared with soya chunks layering curry with long grain basmati rice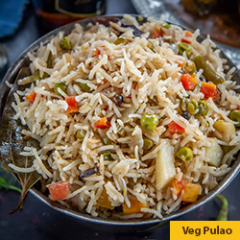 Veg Pulao
Pulao is a fragrant Indian-style rice dish where rice is cooked with spices and loads of vegetables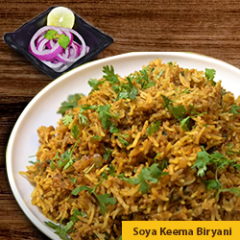 Soya Keema Biryani
Simple soya keema biryani made with soya protein, green peas and Indian spices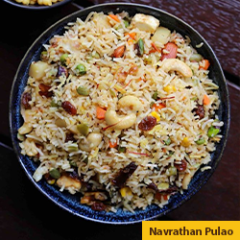 Navrathan Pulao
The Navratan pulao is a combination of vegetables, nuts, spices and rice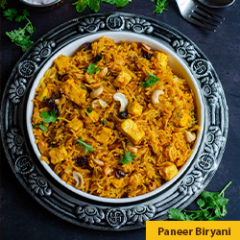 Paneer Biryani
Is an Indian-style layered casserole dish made with Basmati rice and Indian cottage cheese home made paneer tikka biryani in Boston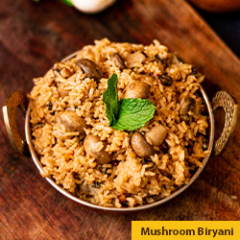 Mushroom Biryani
Classic vegetarian version of biryani with mushrooms, tender fluffy rice and flavorful spices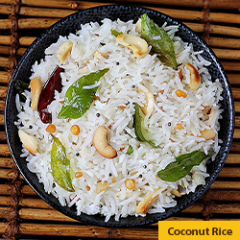 Coconut Rice
Is a light, tasty, savory South Indian rice variant made with fresh grated coconut, lentils, herbs and spices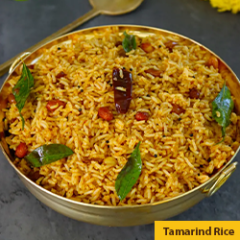 Tamarind Rice
The "Tamarind Rice" is prepared with tamarind and jaggery cooked in oil and mixed with rice along with spices and curry leaves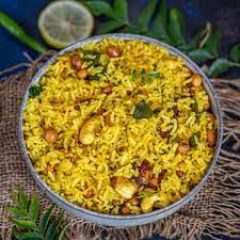 Lemon Rice
Is a flavorful tangy rice meal made by tempering spices, flavoring with lemon juice finally mixing it with cooked rice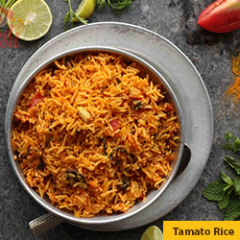 Tomato Rice
Is a simple South Indian meal where rice is cooked with lots of tomatoes, fresh herbs, whole spices & ground spices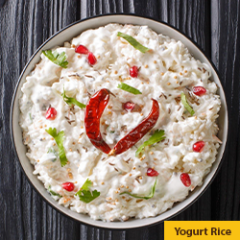 Yogurt Rice
Curd or yogurt rice is a popular South Indian comfort meal made with soft cooked rice, mixed yogurt, and tempered with spices.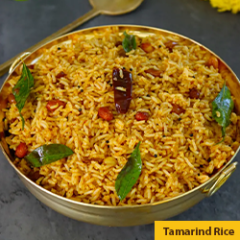 Pudina Rice
Is a one pot delicious, healthy and fragrant Indian dish made with rice, mint leaves and spices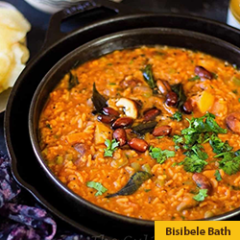 Bisibele Bath
Is a traditional Karnataka dish made of rice, vegetables, lentil (Toor Dal) and a special spice powder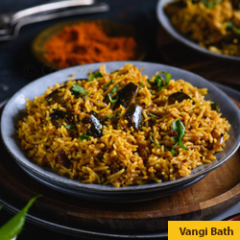 Vangi Bath
Is a one-pot meal dish of spiced rice made with brinjal and freshly ground spices.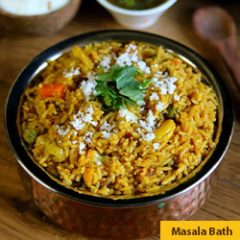 Masala Bath
Is a popular Maharashtrian rice dish made with special spice goda masala and vegetables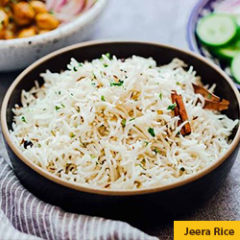 Jeera Rice
is a popular Indian rice dish in which basmati rice is cooked with whole cumin seeds, that are tempered in ghee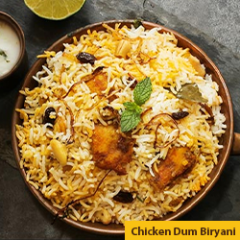 Chicken Dum Biryani
Is made by layering fragrant basmati rice over chicken marinated in a rich, delicious mix of spices and yogurt Best Hyderabadi Biryani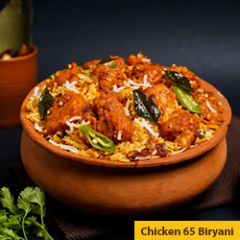 Chicken 65 Biryani
Deep fried boneless chicken mixed with basmati rice and Indian spices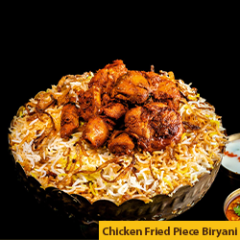 Chicken Fried Piece Biryani
Deep fried Boneless chicken cubes sautéed with special spices and herbs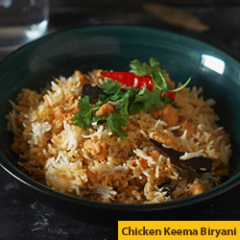 Chicken Keema Biryani
Keema biryani dish made up of spiced ground meat, long-grain basmati rice, and aromatic spices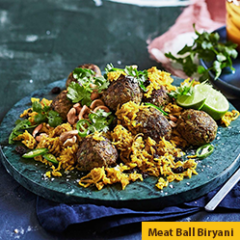 Meat Ball Biryani
Minced chicken balls made with flavorful basmati rice and Indian spices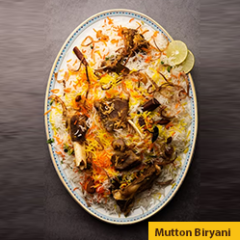 Mutton Biryani
Mutton biryani is a popular Indian rice dish made using long grain basmati rice layered with a spicy mutton (goat meat) layer
Fish Biryani
Fish biryani is a layered rice dish made with fish, basmati rice, spices & herbs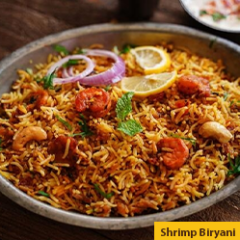 Shrimp Biryani
Shrimp Biryani is a spicy and delicate, full-flavored meal, made with fragrant basmati rice, tender-cooked shrimp, and caramelized onions.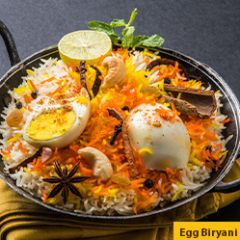 Egg Biryani
Fragrant basmati rice cooked with aromatic biryani spices, herbs & boiled eggs
veg gravy items 16 & 32 OZ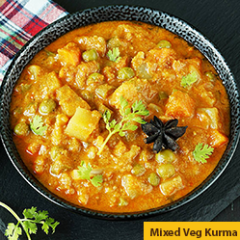 Mixed Veg Kurma
Veg Kurma is packed with flavors from the coconut, cashews and a whole lot of spices!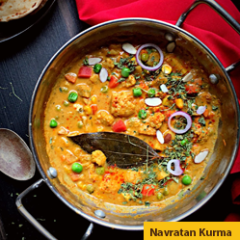 Navratan Kurma
Navratan kurma is a flavorful vegetable curry with a nutty base, aromatic spices, and a creamy finish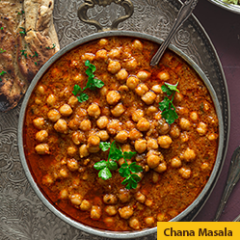 Chana Masala
Raw chickpeas are soaked overnight and then cooked in an onion-tomato based masala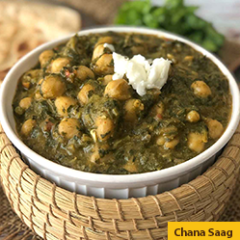 Chana Saag
Raw chickpeas are soaked overnight and then cooked with spinach.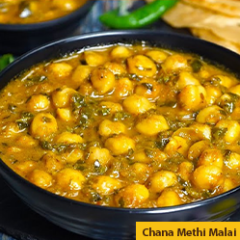 Chana Methi Malai
A mild and creamy curry recipe made with fenugreek leaves, green chana and malai.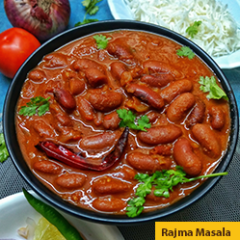 Rajma Masala
Lightly spiced, creamy and delicious Punjabi style curry made with protein rich kidney beans, aromatics like onions, ginger, garlic, fragrant spices and tangy tomatoes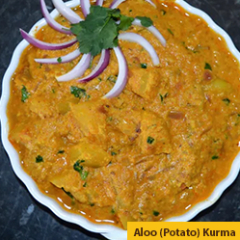 Aloo (Potato) Kurma
This dish of potatoes cooked in a spicy and fragrant kurma gravy.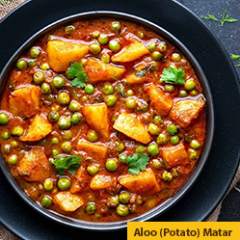 Aloo (Potato) Matar
Tender green peas and delicious potatoes cooked in a curry of onions, tomatoes and spices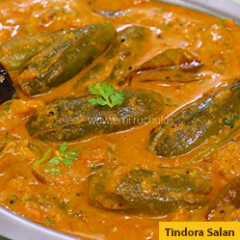 Tindora Salan
Tindora slit and deep fried and in oil and submerged in sweet and sour gravy and cooked.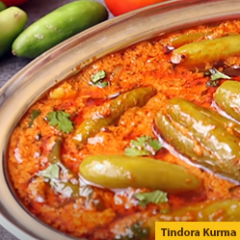 Tindora Kurma
Tindora cooked in a spicy yogurt gravy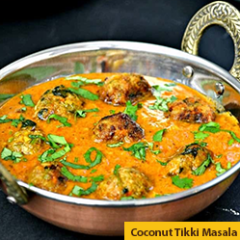 Coconut Tikki Masala
The taste of these koftas is completely different from other koftas. Sweetness of the coconut, tanginess of the tomato & the spicy masala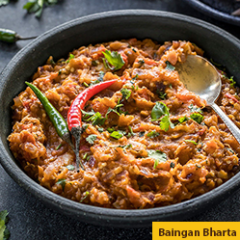 Baingan Bharta
Traditional dish made with grilled eggplants, onions, tomatoes, spices and herbs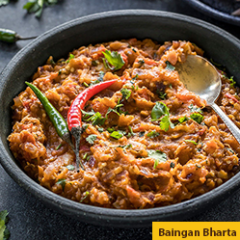 Bagara Baingan
Bagara Baingan is a flavorful, tasty curry made with small eggplants in a tangy, creamy gravy made with coconut, peanuts, sesame seeds, tamarind, and Indian spices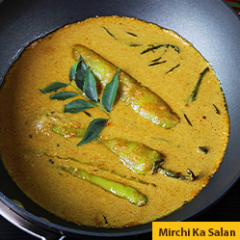 Mirchi Ka Salan
Mirchi ka Salan is a spiced, creamy, tangy, earthy, tongue-tickling preparation made with green chilies in a gravy base of nuts, seeds, aromatics and tamarind.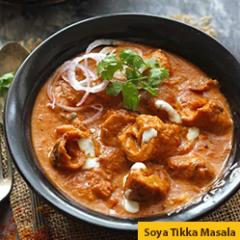 Soya Tikka Masala
Soya chunks cooked in onion, tomato thick tikka gravy and dazzled with cream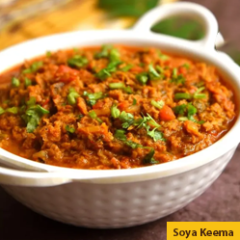 Soya Keema
Soya is a high-protein and healthy side dish made with Soya Granules and spices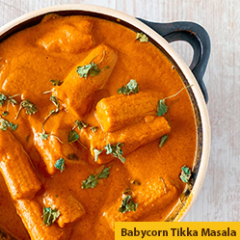 Babycorn Tikka Masala
Fried baby corns sauteed in Onion-tomato paste, spices and cream.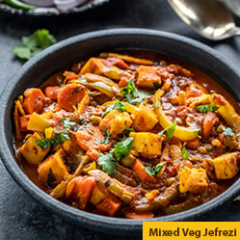 Mixed Veg Jefrezi
Jalfrezi is made with mixed vegetables, onions, tomatoes, spices and herbs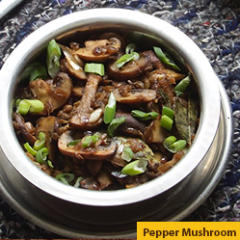 Pepper Mushroom
Mushrooms cooked with onion, tomato and pepper powder. Sprinkle with fresh coriander leaves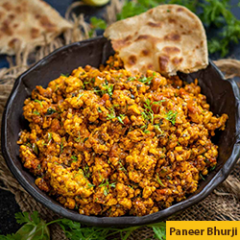 Paneer Bhurji
The crumbled homemade paneer is added to sautéed base of onions, tomatoes and spices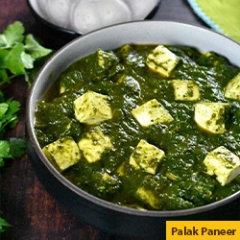 Palak Paneer
Palak paneer recipes are made with fresh spinach leaves, aromatics, herbs and spices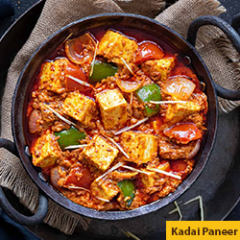 Kadai Paneer
Paneer, onions, and green bell peppers cooked in spicy and flavorful gravy made using freshly ground kadai masala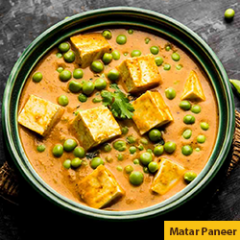 Matar Paneer
Dish made with green peas and Paneer (Indian cottage cheese) in a base of onions, tomatoes, cashews, spices and herbs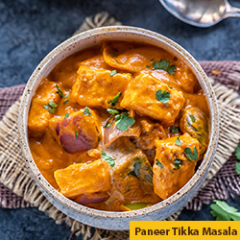 Paneer Tikka Masala
Cubes of paneer (Indian cottage cheese), onions and peppers are marinated with yogurt and spices, grilled and then tossed in a creamy tomato-based curry.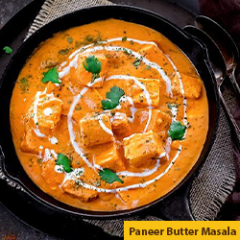 Paneer Butter Masala
it's mildly sweet and spicy taste with the goodness of fresh cream and butter topping with moist paneer.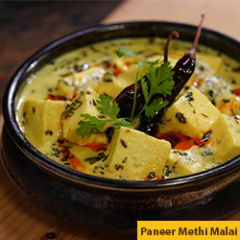 Paneer Methi Malai
It is a creamy, mildly sweet gravy with hints of bitterness from fenugreek leaves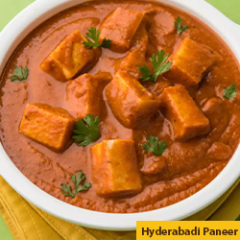 Hyderabadi Paneer
It is prepared with paneer, milk, onion, curry leaves, lemon juice and a mélange of spices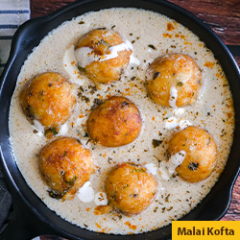 Malai Kofta
Delicious dish of fried balls of potato and paneer in a rich and creamy mild gravy made with sweet onions and tomatoes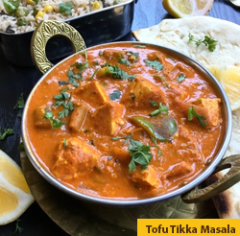 Tofu Tikka Masala
Made by simmering perfectly spiced and baked cubes of tofu in a tomato onion curry sauce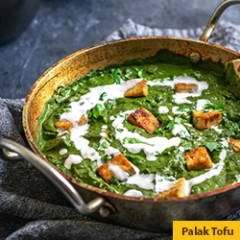 Palak Tofu
Spinach leaves are cooked with tomatoes, garlic, ginger and spices. Then grind to a fine paste and add Tofu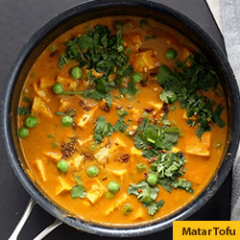 Matar Tofu
Tofu and green peas are cooked in spicy, beautifully flavored tomato onion sauce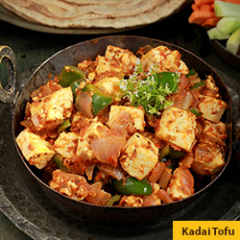 Kadai Tofu
Cubes of tofu are dunked in a creamy Indian style tomato sauce, soaking in all of the spice and flavor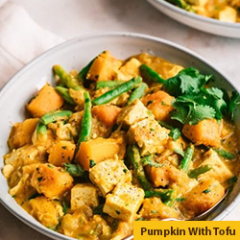 Pumpkin with Tofu
Delicious vegan recipe that pairs Thai flavors with a creamy coconut sauce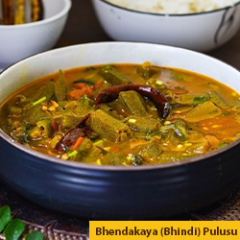 Bhendakaya (Bhindi) Pulusu
Okra/ bhindi cooked in a spicy tamarind stew or gravy. It's spicy, hot, tangy and delicious!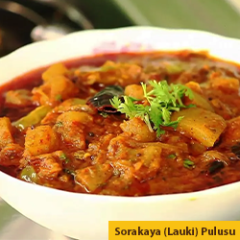 Sorakaya (Lauki) Pulusu
Andhra style tamarind stew prepared with Bottle gourd, onions, tamarind, spices & herbs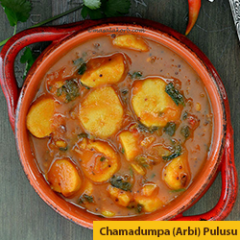 Chamadumpa (Arbi) Pulusu
made with tamarind pulp and taro root/ arbi (Hindi) making it starchy, mildly spicy and tangy in taste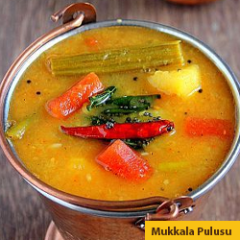 Mukkala Pulusu
Made with mixed vegetables (Bottle gourd, pumpkin, drumsticks and other seasonal vegetables) tamarind pulp, jaggery and spices.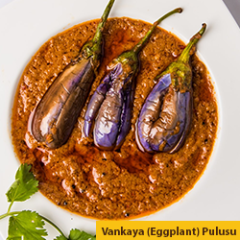 Vankaya (Eggplant) Pulusu
Made with small eggplants, onion, tomatoes, tamarind pulp, jaggery and spices.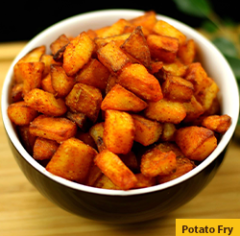 Potato Fry
Potato fry is an Indian side dish made with potatoes, spices and herbs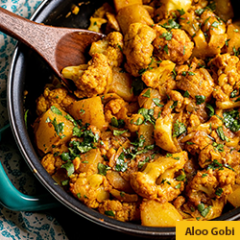 Aloo Gobi
Vegetarian dish from the Indian subcontinent made with potatoes, cauliflower, and Indian spices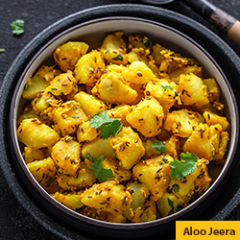 Aloo Jeera
Flavorful & delicious North Indian side dish made with potatoes, spices and Jeera (Cumin).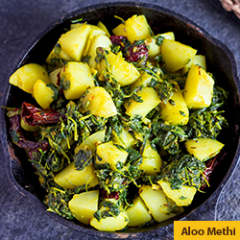 Aloo Methi
Classic Indian side dish made with tender potatoes and flavorful fenugreek leaves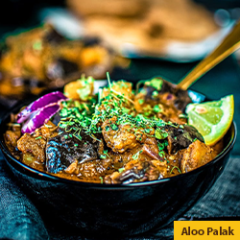 Aloo Baingan
Delicious Indian sabji (vegetable dish) made with diced potatoes and eggplant that have been simmered in a spiced onion tomato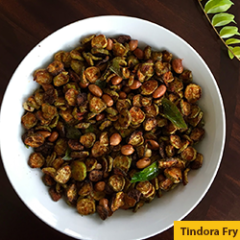 Tindora Fry
Delicious Indian curry made by stir frying thinly sliced Tindora tempered with seasonings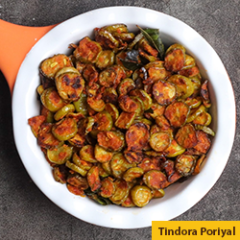 Tindora Poriyal
Steamed and then tossed in a seasoning that has only mustard, curry leaves, salt and coconut.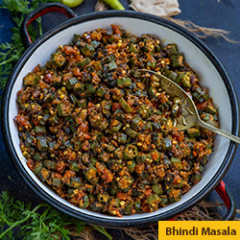 Bhindi Masala
Indian dish made with okra, whole and ground spices, herbs, onions & tomatoes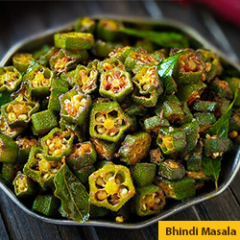 Bhindi Poriyal
Simple stir fry that is tossed in mustard and curry leaves, and seasoned with asafoetida, sambar powder and salt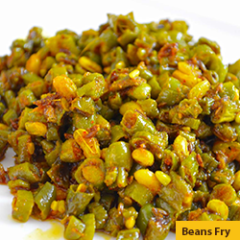 Beans Fry
Andhra Style beans cooked in mildly spiced spice mix made using sesame seeds and coconut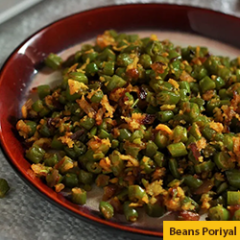 Beans Poriyal
Traditional South Indian dish made with green beans, spices, curry leaves and coconu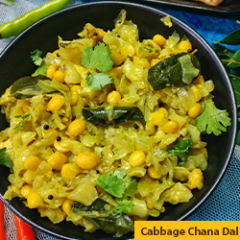 Cabbage Chana Dal
Dry sabzi made with cabbage, methi and chana dal that is infused with basic Indian spices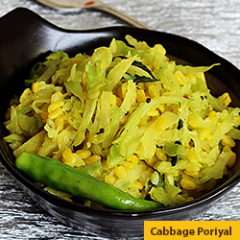 Cabbage Poriyal
Famous side dish from South India where cabbage is tempered with mustard seeds, curry leaves, coconut and some lentils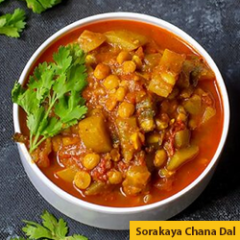 Sorakaya Chana Dal
Lauki chana dal is one of the traditional Andhra dal recipes made with bottle gourd, milk, methi and yummy dal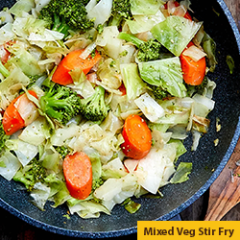 Mixed Veg Stir Fry
Mixed vegetable fry is made by cooking a mixture of vegetables together with onion, tomato, ginger garlic paste and basic spice masala powders.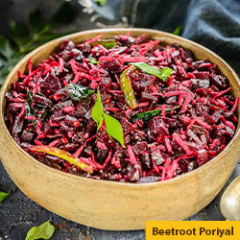 Beetroot Poriyal
Lightly spiced South Indian special preparation made with beets, coconut, spices and herbs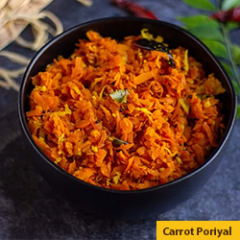 Carrot Poriyal
Made with made with carrots, spices and coconut.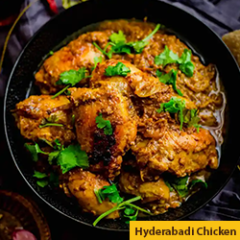 Hyderabadi Chicken
Traditionally bone-in chicken pieces are cooked with onion, tomato and spices.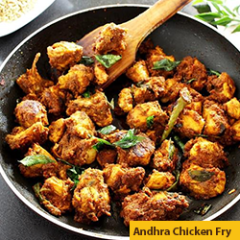 Andhra Chicken Fry
Delicious spicy Andhra chicken fry made with Bone-in chicken, curry leaves and special vepudu masala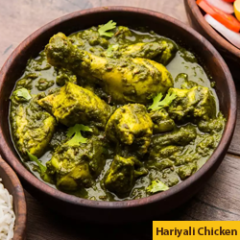 Hariyali Chicken
Curry made with bone-in chicken, spinach, coriander & mint leaves and spices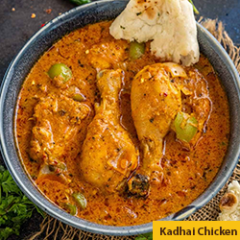 Kadhai Chicken
Delicious, spicy & flavorful dish made with chicken, onions, capsicum, tomatoes, ginger, garlic & fresh ground spices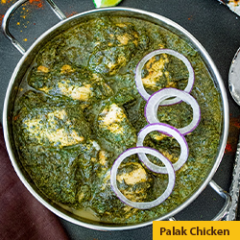 Palak Chicken
Chicken is cooked with onions, tomatoes, spices, herbs and plenty of Spinach.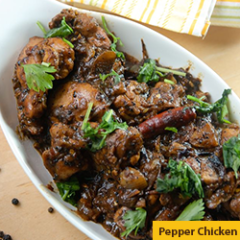 Pepper Chicken
Packed with authentic flavors from black pepper and spices cooked with bone-in chicken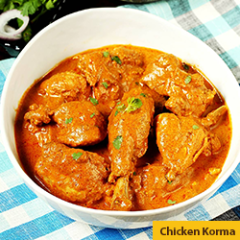 Chicken Korma
Mughlai dish where bone-in chicken is cooked with spices, onion paste, yogurt and nuts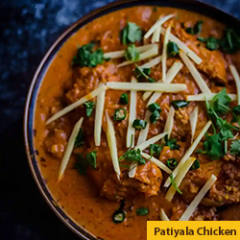 Patiyala Chicken
Punjabi recipe with a Yoghurt & Spice Marinaded Chicken in a Cashew and Creamy Curry Base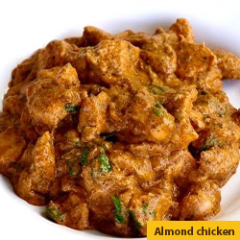 Almond Chicken
Creamy chicken gravy made with Almonds or Badam along with other spices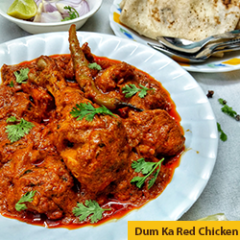 Dum Ka Red Chicken
Hyderabadi dish prepared mostly during functions or parties. Juicy succulent bone-in chicken cooked in yoghurt and spices with almonds, charoli and cashews.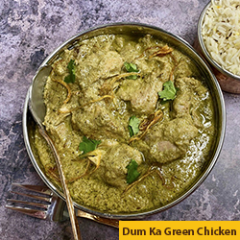 Dum Ka Green Chicken
Hyderabadi dish prepared mostly during functions or parties. Juicy succulent bone-in chicken cooked with spinach, mint, methi in yoghurt and spices with almonds, and cashews.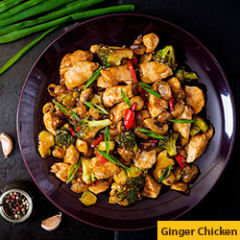 Ginger Chicken
Indian chicken curry that's made by cooking the chicken pieces in an onion, lots of ginger, and garlic base gravy along with spices and sauces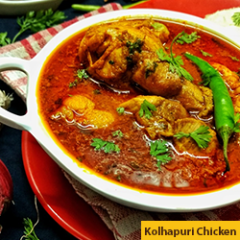 Kolhapuri Chicken
Made of delicious grated coconut, whole spices, and Kashmiri chilies, while the curry is a mixture of juicy bone-in chicken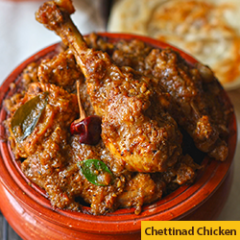 Chettinad Chicken
Chicken cooked in, turmeric and a paste of red chilies, kalpasi, coconut, coriander seeds, cumin seeds, fennel seeds, black pepper, onions, ginger, garlic and gingelly oil.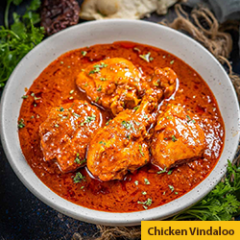 Chicken Vindaloo
Delicious, spicy & flavorful Portuguese Influenced Indian dish made by cooking chicken in vindaloo spice paste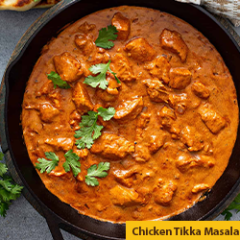 Chicken Tikka Masala
Popular curried dish made with boneless chicken, ground spices, onions, tomatoes, cream and herbs.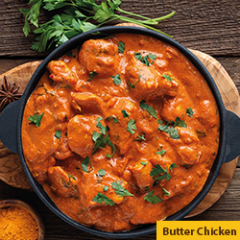 Butter Chicken
Chicken simmers in a buttery tomato sauce and is punctuated by several special spices and herbs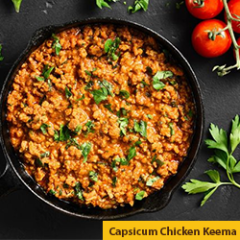 Capsicum Chicken Keema
Keema Capsicum cooked with ground chicken and spices is unique and tasty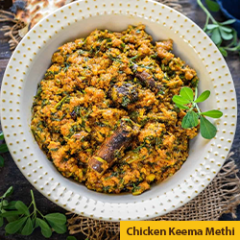 Chicken Keema Methi
Succulent pieces of ground chicken wrapped in a perfect blend of aromatic spices and fenugreek leaves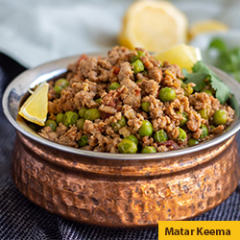 Matar Keema
A delicious blend of minced meat (mutton) and peas sauteed in a thick mixture of stimulating flavors like cumin seeds, cloves, cinnamon, peppercorn, cardamom and bay leaves cooked along with tomatoes, salt, coriander powder, turmeric and chili powder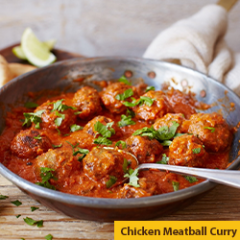 Chicken Meatball Curry
Curry is a flavor packed chicken curry simmered in a tomato gravy and simmer along with chicken kofta balls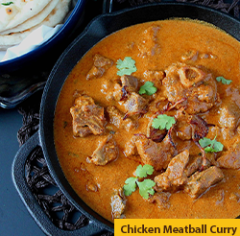 Hyderabadi Mutton
Mutton is cooked with roasted dry spices made into a paste with Tomato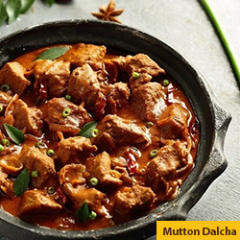 Mutton Dalcha
Mutton and chana dal are the major ingredients of this recipe which are mixed with spices and condiments to bring out a unique flavor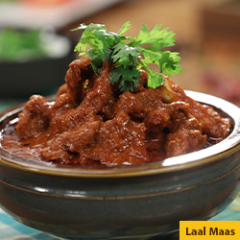 Laal Maas
It is a mutton curry prepared in a sauce of yoghurt and hot spices such as red chilies.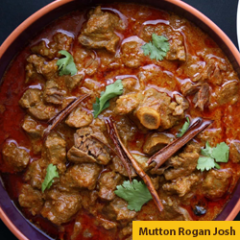 Mutton Rogan Josh
Classic comfort food from the Kashmiri Cuisine is a slow cooked dish made with lamb, spices, herbs and yogurt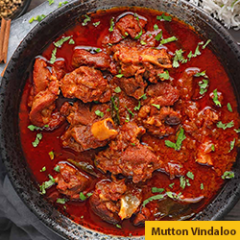 Mutton Vindaloo
Delicious fiery red curry dish of tender mutton chunks cooked in vindaloo sauce made with lots of red chilies, vinegar, garlic and spices.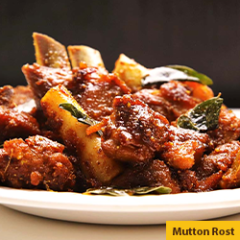 Mutton Roast
A delicious recipe, where the mutton is pressure-cooked & simmered in a spicy onion & masala gravy flavored with spices.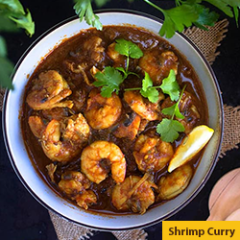 Shrimp Curry
Delicious & flavorful dish made with fresh prawns, onions, tomatoes & ground spices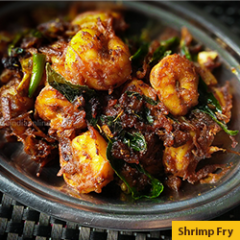 Shrimp Fry
Shallow fried shrimp in a little bit of oil and spices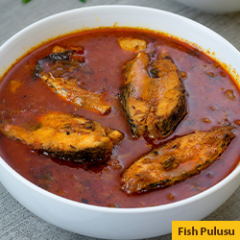 Fish Pulusu
Popular Andhra style dish where fish is simmered in a spicy and sour stew.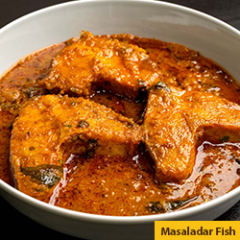 Masaladar Fish
Marinated in yogurt and cooked with tomato and onion gravy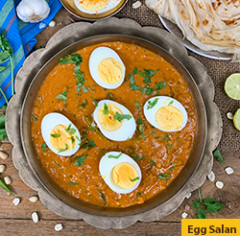 Egg Salan
Lip-smacking gravy made with coconut, sesame seed base along with tangy tamarind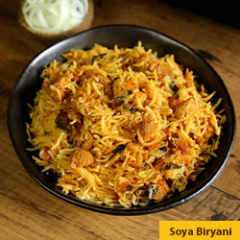 Malai Egg Masala
Creamy gravy made from a silky onion base gravy and cooked off in milk, cream and butter topped with hard boiled eggs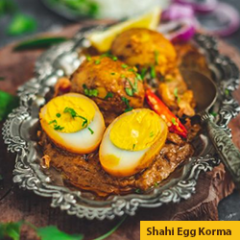 Shahi Egg Korma
Korma is a simple dish made by cooking boiled eggs in a thick onion tomato & nut gravy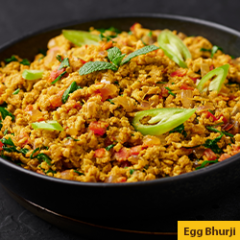 Egg Bhurji
The spiced Indian version of scrambled eggs cooked with onion, tomatoes, capsicum and spices.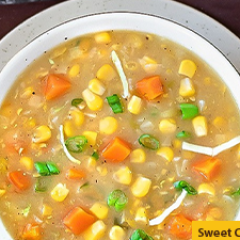 Sweet Corn Soup
Made with tender corn kernels, spices and herbs. (Available in Veg & Chicken)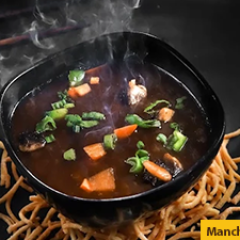 Manchow Soup
Chinese vegetarian soup made with mixed vegetables, garlic, ginger, soya sauce, ground pepper (Available in Veg & Chicken)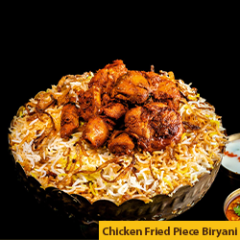 Hot & Sour Soup
Spicy and hot soup made with mixed fresh vegetables, mushrooms, spices and soy sauce. (Available in Veg & Chicken)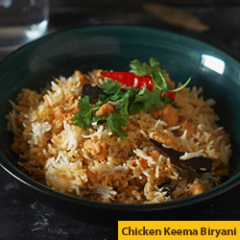 Veg Manchurian
Indian-Chinese appetizer where crisp fried vegetable balls are dunked in slightly sweet, sour and hot Manchurian sauce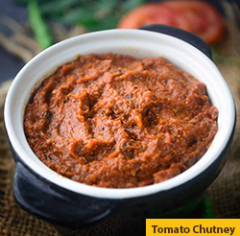 Tomato Chutney
Spicy, tangy and tasty South Indian chutney and pairs extremely well with idli, dosa, uttapam, pakora or vada varieties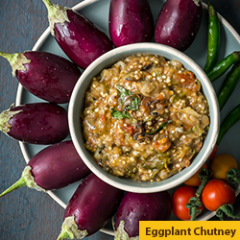 Eggplant Chutney
Spicy and tempting condiment made from brinjal, peanuts, garlic and tamarind with many other spices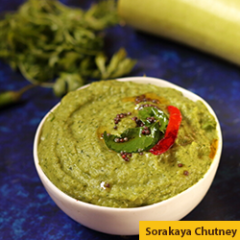 Sorakaya Chutney
Savory, spicy, sour Andhra Special Chutney. This Chutney tastes great with hot Rice and Ghee, and also with Idly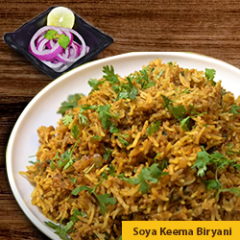 Beerakay Chutney
Authentic South Indian style chutney made with Ridge Gourd. Serve it with rice and ghee, Dosa, Idli, Roti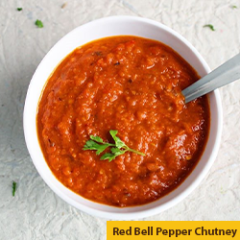 Red Bell Pepper Chutney
Nutritious and delicious Capsicum chutney is a vibrant dip or spread made primarily from red capsicum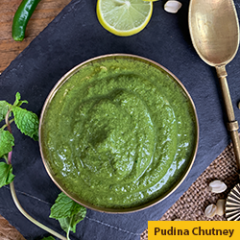 Pudina Chutney
Deliciously spicy condiment prepared from fresh mint leaves, tamarind, coriander leaves, ginger and garlic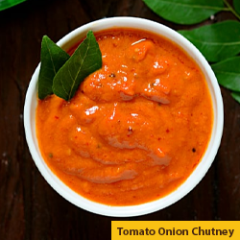 Tomato Onion Chutney
Traditional south Indian condiment or chutney for Idli, dosa, upma.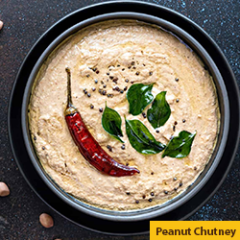 Peanut Chutney
Delicious spicy condiment from Andhra cuisine made with roasted peanuts, chilies & spices.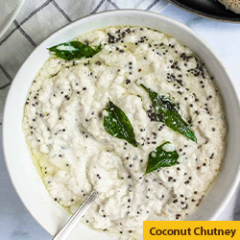 Coconut Chutney
Made by grinding coconut, green chilies, ginger, peanuts and chana dal with water to a fine paste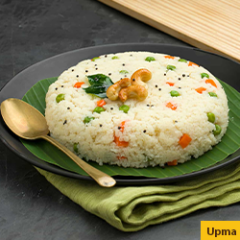 Upma
Traditional South Indian breakfast dish made by simmering roasted rava in tempered & spiced boiling water.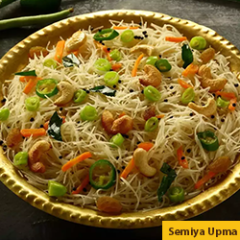 Semiya Upma
Popular South Indian Breakfast made with vermicelli, spices, herbs, lentils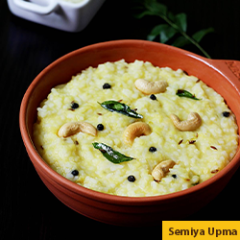 Pongal
Traditional South Indian dish made with rice, split yellow mung dal, ghee, cumin, ginger, pepper and curry leaves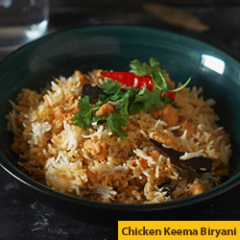 Sabudana Khichdi
A popular Indian dish made with tapioca pearls, whole spices, roasted peanuts, potatoes and fresh curry leaves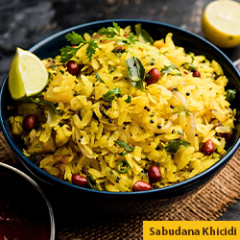 Poha
Flattened rice that is steam cooked with onions, spices and herbs