Coconut Chutney
2021-02-21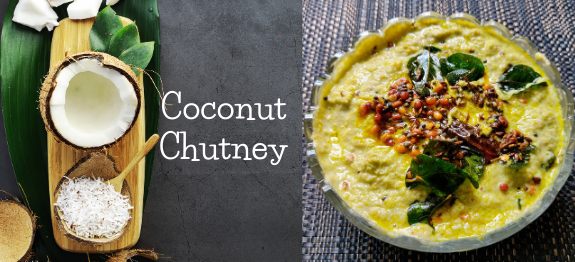 Servings:

4

Prep Time:

5m

Cook Time:

15m

Ready In:

20m
Average Member Rating
(5 / 5)
1 People rated this recipe
Related Recipes:
Nutritional Info
This information is per serving.
Calories

36

Carbohydrates

1g

Fat

3.3g

Protein

0.4g

Serving Size

1 Tbsp
Side
Advertisement
Coconut Chutney is a lightly spiced, nutty dip served as a popular side dish with Indian food. This condiment is made by blending together tender grated coconut with green chilies, and roasted gram lentils.
Ingredients (For Chutney)
3 Tablespoons Oil
2 Tablespoons Chana Dal
10 – 12 Green Chilies
1 Cup Fresh Coconut
1 1/2 Teaspoon Sugar
Salt as per taste
Coriander Leaves
Ingredients (For Seasoning)
1 Teaspoon Jeera Seeds
1 Teaspoon Mustard seeds
1 Teaspoon Urad Dal
2 Red Chilies
Few Curry Leaves
1/2 Teaspoon Turmeric Powder
Method
Step 1
Heat 3 tablespoons oil and add 2 tablespoons chana dal. Fry for 1 minute and keep it aside.
Step 2
In the same oil add green chilies. Fry for 30 seconds and keep it aside.
Step 3
Add 1 cup coconut, chana dal, green chilies, 1 1/2 teaspoon sugar, salt as per taste, and coriander leaves in a grinder. Make a smooth paste and take it into the bowl.
Step 4
Heat 1 tablespoon oil, add 1 teaspoon Jeera seeds, 1 teaspoon mustard seeds, 1 teaspoon urad dal, 2 red chilies, and few curry leaves.
Step 5
Add the seasoning to the chutney. Serve it with dosa or idli.